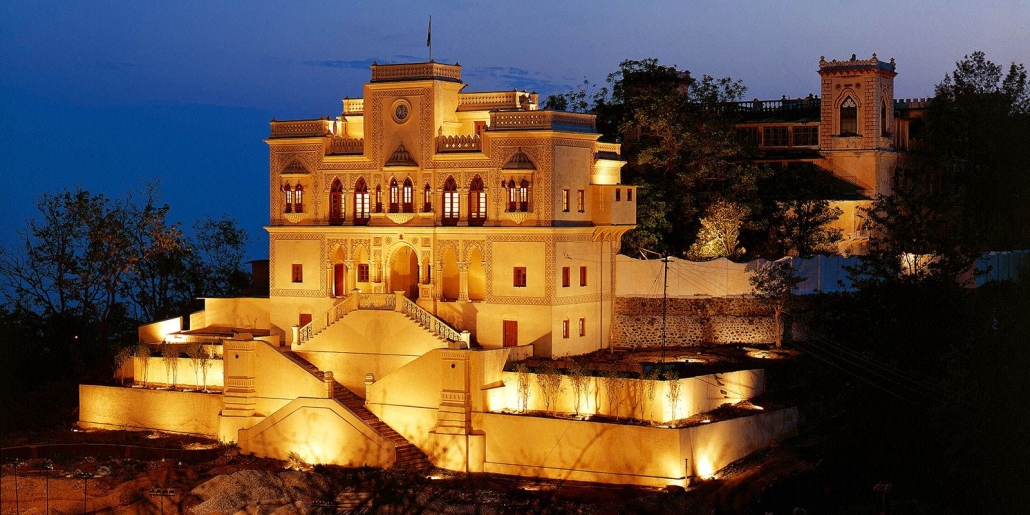 Ananda In The Himalayas, Narendra Nagar, Uttarakhand
Located in the tranquil Himalayan foothills, close to the mythological cities of Haridwar and Rishikesh, surrounded by graceful Sal forests, overlooking the peaceful Ganga as it meanders into the distance. Ananda is the spiritual pathway to the ultimate, discovered through the union of body, mind and soul.
It is not just a retreat that will leave you breathless with the enchantment of its surroundings, but assists in redefining lifestyles to include the well-known traditional Indian wellness regimes of Ayurveda, Yoga and Vedanta combined with best of International Wellness Experiences.


Goals: Rejuvenate using traditional Ayurveda principles to de-stress & revitalise from inside out.
Package Details: The 'Ayurveda Rejuvenation' programme addresses health issues arising from the rigours of modern lifestyle. Ayurvedic treatments undergone in this programme would include Shirodhara – continuous pouring of warm medicated oil or water on the forehead, Kizhyi massage – massaging the body with pouches filled with medicated herbs or cooked rice and medical oils, Dharas – continuous pouring of medicated warm oil or water over the full body and Basti – medicated enemas.
Suitable For: Arthritic related problem | Musculoskeletal problems | Back pain | Circulation | Sinus related problems.


Spa
An expansive Indian spa spread across 25000 sq. ft. with its 24 treatment rooms, state of the art gymnasium, outdoor temperature-controlled swimming pool and luxurious hydrotherapy facilities is the centre of attention at Ananda. The spa featuring more than 80 body and beauty experiences integrates traditional Indian wellness practices of Ayurveda and Yoga with the best of international wellness experiences at the best destination spa in India. The personalized therapy and activities program are designed to meet individual needs and health goals – de-stress, detoxification and cleansing, deep relaxation, anti-ageing, emotional health, weight & inch loss, while also offering guidance in the areas of nutrition and active fitness. A team of qualified nutritionists, Western & Ayurvedic physicians, spa therapists, Yoga and Fitness experts all gently guide towards a better lifestyle at this Himalayan spa and wellness retreat. Special spa offers & rituals are available and updated monthly. 



At Ananda, Health Resort in India, Ayurveda forms an intrinsic part of the wellness regime for the guests. From massages and specialized diet programme to fulfill personal goals to the more rigorous transformations in lifestyle, the Ayurveda experience has been designed keeping in mind the individual's desire to heal, cleanse, relax and revitalize. With qualified Ayurveda doctors and therapists to administer treatments ranging from therapeutic massages to more rigorous modes of toxic elimination, the Ayurvedic therapies at Ananda are strongly rooted in ancient traditions, while keeping in mind contemporary preferences and comforts, making it the best Ayurvedic retreat in India.
The authenticity and our commitment to this ancient life system are evident in the use of age-old powders; oils, vessels, wooden beds, treatment rituals and qualified therapists trained in traditional Ayurvedic schools. Ananda Ayurvedic Therapy programmes are prescribed by the resident physician after a detailed consultation, which specifies daily routines, diet and wellness activities.