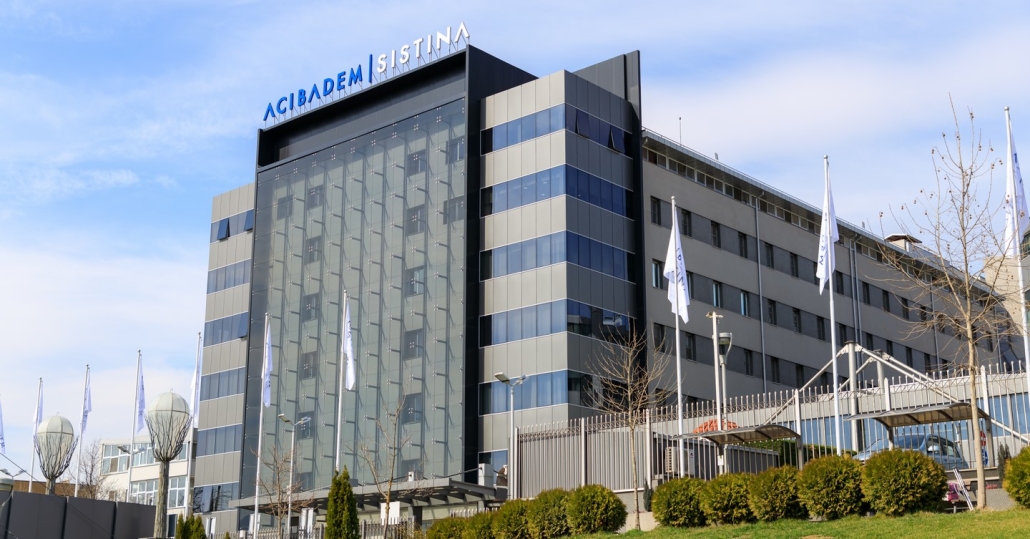 Acibadem Sistina Hospital, Skopje, North Macedonia
Acibadem health care industry story began in 2001 when we opened "Mala Bogorodica-Sistina" Specialized Hospital for Obstetrics and Gynecology – a place where care for the reproductive women's health acquired a completely new dimension. The positive results we achieved in a completely new business segment, prove that regardless which area you invest in, it is the amount of love and dedication you put into a new project that determines the level of success. The moments of success, the days when the brand of "Sistina" gained broader recognition, lead to its capacity extension. Following the serious investment in the health care business, it became a Clinical Hospital, opening its doors to patients on 7 April 2010.
On the 10 November 2010, Sistina Hospital achieved another great success. The signing of the Affiliation contract with Acibadem – the largest network of hospitals in South East Europe, Sistina created an opportunity for knowledge and experience exchange with the medical team of the Turkish health care giant. Within a year, this successful cooperation grew to become a joint partnership. Sistina Hospital became a part of the Acibadem health care network, and the first hospital to become a part of the Turkish healthcare industry leader outside Turkey. "Acibadem Sistina" thereby became a part of the second largest chain of hospitals in the world – Malaysia IHH. Being a member of this network meant raising standards in patients' treatment, implementing the latest technologies and treatment protocols, as well as positioning Macedonia on the health care world map. "Acibadem Sistina" is, at present, the largest and the most modern private hospital in the region exemplifying success in the health care industry. This was all accomplished by the offer of medical services which follow the latest protocols in treating patients. The top medical team utilizing the most contemporary methods and techniques is on call 24 hours per day, 7 days a week.
"Acibadem Sistina" Hospital received the golden seal of quality and safety by JCI – the most prestigious organization for hospitals' accreditation in the world. This seal represents evidence of quality, which is result of the Hospital's commitment to providing safe and efficient service for its patients. JCI accreditation means security for each patient that he/she is safe and that he/she receives the best medical care.
Anesthesiology


ALEKSANDAR KRSTEVSKI, MD
Specialist in Anesthesiology and Intensive Care
ANESTHESIOLOGY


ALEKSANDAR RADOESHKI, MD
Specialist in Anesthesiology and Intensive Care
ANESTHESIOLOGY


BLAGOJA VELKOVSKI MD, MSC.
Specialist in Anesthesiology and Reanimation
ANESTHESIOLOGY


EMILIJA MIRCHEVSKA, MD
Specialist in Anesthesiology and Intensive Care
ANESTHESIOLOGY


MARIJA VASIKJ ATANASOVSKA
Specialist in Anesthesiology and Intensive Care
ANESTHESIOLOGY


Dr. MIRJANA PETROVSKA
Specialist in Anesthesiology and Reanimation
ANESTHESIOLOGY
Cardiology


Dr. DANIELA PROJEVSKA 
Specialist in Internal Medicine, Subspecialist in Cardiology
CARDIOLOGY


Dr. DEJAN KOVACHEVIKJ
Specialist in Internal Medicine, Subspecialist in Cardiology
CARDIOLOGY


Dr. MARINA JURUKOVSKA
Specialist in Internal Medicine, Subspecialist in Cardiology
CARDIOLOGY


Dr. SLOBODAN ANTOV
Specialist in Internal Medicine, Subspecialist in Cardiology
CARDIOLOGY


Dr. ZLATANA PETKOVSKA
Specialist in Internal Medicine, Subspecialist in Cardiology
CARDIOLOGY