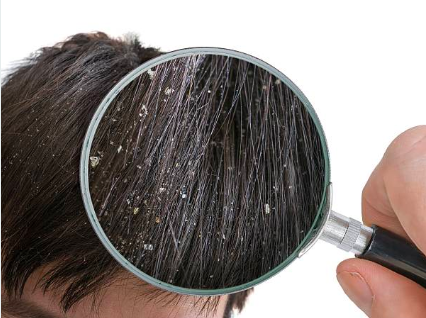 What is Dandruff?
The lifetime of skin cells includes a normal, natural process called exfoliation. The superficial stratum corneum, which has been lost as a result of the process, is what makes up the white flakes on a dry scalp. These are known as dandruff. Although some flaking is normal, excessive flaking is not acceptable. There are several contributing factors to this illness.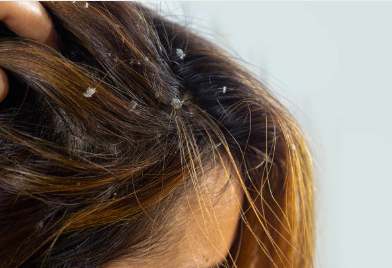 Causes of Dandruff
Skin regeneration happens continuously. The body produces new cells and sheds old ones to maintain health. However, when this renewal cycle quickens, patches of dead skin cells form. These are in the form of dry, white flakes that become dislodged into the hair. This creates an uncomfortable scenario that is, to put it mildly, irritating and humiliating.
Both men and women have dandruff, and both men and women may develop it for a variety of reasons. There might be a number of causes for dandruff. There are several therapy modalities as a result. Extreme heat and cold, as well as being ill or under stress, all make it worse.
Not because of hygiene,
Contrary to popular belief, dandruff is not due to uncleanliness. Poor hair hygiene does not cause dandruff. However, washing your hair may make the flakes less noticeable. This is because the buildup of oils and skin cells will get washed away.
Stress and hormonal fluctuations have both been linked to an increase in dandruff production. Similar responses have also been shown in chronic illnesses including strokes, auto-immune system suppression, and neurological disorders like Parkinson's disease.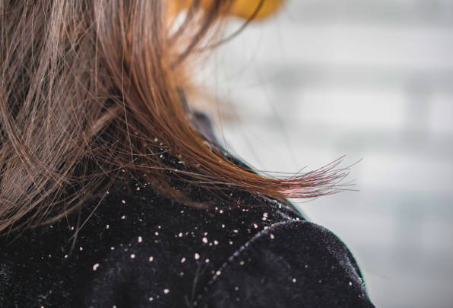 Treatment:
Regular brisk brushing of the hair to remove product buildup from the scalp and the use of an effective anti-dandruff shampoo are key components of dandruff cures and treatments. Finding the best remedy may need some trial and error. Finding the ideal shampoo will take some time, and if it loses its effectiveness, you may need to move to a different one.
Regular washing with a mild cleaner may help mild cases of dandruff clear up. You might need an active therapy for seborrheic dermatitis, such as a specialist shampoo, to get rid of the persistent dandruff as well as to get relief from the itching, redness, and flaking. The type of shampoo you use will depend on the dandruff's cause. Since each product has a unique mode of action, you might need some experience to choose the best option.
For skin diseases:
In order to treat psoriasis and seborrheic dermatitis, tar-based shampoos slow down the pace at which cells degrade and flake off. Additionally, you should use caution and attention while using a shampoo that contains coal tar. Shampoos containing selenium sulfide slow the proliferation of troublesome scalp skin cells as it delays the degeneration of skin cells. Shampoos with salicylic acid help remove scale but may dry up the scalp and increase flaking. The fungus that causes dandruff is the focus of ketoconazole-containing shampoos. Ketoconazole is a broad-spectrum antifungal drug, thus it could be effective even when other shampoos haven't.
Home remedies for dandruff:
In addition to shampoos, several creams and lotions based on cortisone also lessen skin irritation. The use of anti-yeast lotions is available to stop the spread of the fungus. Applying curd, lemon, salt, garlic, apple cider vinegar, aspirin, baking soda, mouthwash, coconut oil, olive oil, tree-tree oil, or aloe vera are just a few home treatments that can help fight dandruff.
Consultation:
A trip to the dermatologist is necessary if the dandruff is not cleared up with over-the-counter shampoos and home cures, or if the scalp is red or inflamed. In order to identify the underlying cause of dandruff, the dermatologist will extensively inspect the scalp and, if the causes are not obvious, do a scalp biopsy.
https://travocure.com/wp-content/uploads/2022/12/Screen-Shot-2022-12-31-at-4.40.00-PM.png
318
426
contentwriter
https://travocure.com/wp-content/uploads/2021/09/Travocure-Logo-2-2-1.jpg
contentwriter
2022-12-31 12:41:38
2022-12-31 12:41:45
Dandruff: Causes & Treatment